FirstPlay® Therapy Training
A New Parent-Child Play Therapy
Attachment-Based Model
Presented by:
Janet A. Courtney, PhD, Founder, FirstPlay® Therapy
Location
Boynton Beach, Florida
(10 minute drive to the ocean)
Next Training Dates
May 15-19, 2018
Training Hours: 40
Florida Board Approved Continuing Education provider in Mental Health and through
the board of Massage Therapy (#1035);
and APT Approved Provider 10-287
About FirstPlay® Therapy

FirstPlay® is a directive Play Therapy strength-based model that enhances the parent-child attachment relationship and combines the theoretical underpinnings of Developmental Play Therapy including Attachment Theory together with Ericksonian-based therapeutic storytelling. It is further supported by Family Play Therapy, the Infant Massage literature, and the research and ethics in touch.
FirstPlay® is so named because it focuses on the therapeutic aspects of pre-symbolic play, or play that happened first in a child's life ~ "first-play" is, for example, the early joyful touch-based activity play that happens between a parent and infant such as "patty cake," "peek-a-boo," or sing-song games. FirstPlay® Therapy is an attachment-based approach that incorporates fun interactive touch-based activities that gives children the foundation needed to build healthy interpersonal relationships. Brain research supports that pre-symbolic play wires the brain for life-long intimacy, and for advanced cognitive ability and emotional regulation of distress.
FirstPlay® Therapy enhances the parent-child attachment relationship and meets the needs of two different developmental stages:
FirstPlay® Infant Massage Storytelling (ages 4 weeks to toddler)
FirstPlay® Kinesthetic Storytelling (ages pre-school to six years).
In FirstPlay® Practitioners teach the parents how to be caring, respectful and attuned "touchers." Practitioners do not touch the child. Practitioners instruct, direct, model and supervise parents (on a baby-doll and/or stuffed animal) in the techniques of FirstPlay® Infant Massage Storytelling and/or FirstPlay® Kinesthetic Storytelling® or "BACK stories" (stories that can be told on a child's back). While the FirstPlay Practitioner is demonstrating the techniques, the parents simultaneously follow along and practice the FirstPlay® movements and storytelling with their own children. The FirstPlay Practitioner then guides parents on how to incorporate FirstPlay® sessions into their daily schedules. (Watch Janet's TEDx Talk for details regarding Kinesthetic Storytelling).
Training in Touch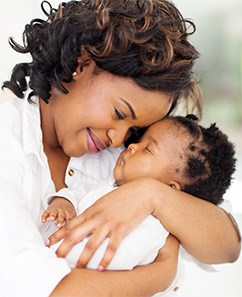 In this workshop practitioners learn how to facilitate respectful and caring touch in parent-child relationships by demonstrating the touch-based activities via a baby-doll for the FirstPlay® Infant Massage Storytelling and via a large stuffed animal, for example, in Kinesthetic Storytelling for older children. Practitioners also support respectful touch by teaching parents how to ask permission of the child (or even the infant) to touch. The practitioner therefore promotes the healing value of touch, but does not touch the child ~ thus removing the practitioner from any concerns of professional liability regarding the touching of children. Note that this training consists of experiential training exercises that involve the use of touch. For example, participants will practice Kinesthetic Storytelling® by drawing and telling a story on another participant's back. In this way you will learn how to demonstrate and facilitate the techniques by role playing with other participants. By experiencing the touch activities you will also gain a sense of what a child client might feel and experience from receiving caring touch with their parents or caregivers.
The FirstPlay® Therapy model is designed for flexibility to be integrated into a practice as best determined by the practitioner or agency. The Parent-Child Instructional Guide assists practitioners in offering either the Infant Massage Storytelling model or the Kinesthetic Storytelling® or in both models depending on the ages of the clients. Practitioners in private practice may choose to incorporate FirstPlay® Infant Massage education to parents of newborns and infants as a way to enhance bonding and attachment.
FirstPlay® is an adjunctive parent-child model that draws upon the inner resiliency of clients and can be integrated along with other forms of play therapy methods. It can also be applied in family sessions and   group, parent reunification, family residential settings; with adoptive & foster parents; children diagnosed with autism and with sensory integration disorder, attachment issues, grief and loss, behavioral problems, and attentional problems (ADD/ADHD). Additionally, children that have been physically and/or sexually abused will require special considerations regarding touch which is covered in the training. FirstPlay® Infant Massage Storytelling is intended for physically healthy infants and requires having the parent seek consent from their child's pediatrician prior to the beginning of the FirstPlay™ sessions. This alleviates any contraindications that may interfere with the massage of an infant. (This is all explained in detail in the training). FirstPlay® Therapy Practitioners learn the techniques of FirstPlay Infant Massage Storytelling & in Kinesthetic Storytelling® so that they can then instruct, model, guide & supervise their client families in the techniques.
FirstPlay® Therapy offers a structured way that parents can give caring and respectful touch to their children through playful activity. It is therefore a model that is valuable to all children. However, it can be particularly helpful as a preventative model of intervention for families assessed as high risk, or for families that may already be identified as in need of family strengthening interventions. Viola Brody believed that the touch component involved in first-play was intrinsically healing ~ and that children who may have missed early first-play stages of development (through abuse/neglect, for example) can "go back and pick up what they missed."
FirstPlay®

Therapy Benefits Parents and Children by:
Promoting caring and respectful touch
Enhancing attachment and bonding in relationships
Building upon children's inner strengths and resilience
Teaching methods of focusing, calming and relaxation
Boosting brain potential
Inspiring fun and interactive storyteller-child activities
Children learn how to give caring touch to others
Promoting empathy in relationships
"When I teach the FirstPlay® caring touch storytelling activities to parents, my heart leaps in awe when I instantly see the positive responses of the infants and children come alive. And, then my heart melts even deeper when I observe the parent's amazement to their children's awakening."
Janet Courtney, PhD, FirstPlay® Founder
Certification Benefits to You
(All included in the workshop fee):
Certification Designation: You may call and advertise yourself as a Certified FirstPlay® Therapy Practitioner as granted through Developmental Play & Attachment Therapies, Inc. (DPAT)
Website Listing: DPAT will provide a free listing with your Professional Profile on the FirstPlay® Therapy website with a link to your website—which you can have updated at the time of renewal once a year.
Advertise: You may advertise that you offer the services of FirstPlay® Therapy; FirstPlay® Infant (Baby) Massage Storytelling; and FirstPlay® Kinesthetic Storytelling® provided that you include the exact name and trademark symbols ® and ® in all advertising.
Five Hours of Group or Individual Supervision or Consultation with Dr. Courtney: Certification requires the presentation of two case studies to be completed in the first year following the FirstPlay® Training course. This can be for FirstPlay® Infant Massage® and/or Kinesthetic Storytelling®. This is included in the price of the training prior to the first year renewal date.
On-Going Quarterly Case Consultation. Attend free quarterly one hour confidential Group Case Consultations with Dr. Courtney via Conference Call or skype. The Case Consultation is offered as part of the on-going certification benefit.
Endorsements and Referrals: When applicable, you may receive endorsements and referrals from DPAT.
FirstPlay® Parent Handbook©: The FirstPlay® Parent Handbook© is designed so that you can teach the techniques of FirstPlay® Infant Massage Storytelling and FirstPlay® Kinesthetic Storytelling® to your clients. You will have the opportunity to purchase and customize the back cover of the FirstPlay® Parent Handbook© from DPAT for a reasonable fee. (This is covered under a separate licensing agreement.)
Certification is established to signify to professionals, referral sources, agencies, and consumers that a practitioner has met a level of competency in the techniques of FirstPlay® Thearpy. This Credential is given to Professionals who have:
Completed the FirstPlay® Therapy 5-Day Intensive 36 hour Training.
Demonstrated proficiency during the training in the practice of FirstPlay® Infant Massage Storytelling and in FirstPlay® Kinesthetic Storytelling®.
Sign a credentialing statement agreeing to follow the ethical standards as outlined in the FirstPlay® Therapy training.
Complete a 15 multiple choice question and answer assessment given at the end of the training that demonstrates knowledge and understanding of the techniques, theory, ethics and other concepts learned in the training.
Requirements After training—(This needs to be completed within six months after the training and are included within your initial fee):
Complete FIVE post-training parent-infant demonstrations. These can be with your clients and/or with family or friend volunteers—it's up to you.
Participate in FIVE group and/or individual case consultation/supervision conference call sessions with Dr. Courtney.
Analyze three assigned parent-infant videos in relationship to attunement and answer questions regarding the process.
Sign and return the FirstPlay® Therapy Practitioner Agreement.
Certification is renewed once a year at which time you will fill out a brief questionnaire indicating your experiences and number of clients seen utilizing FirstPlay® in practice.
Highlights of the Training:
| | |
| --- | --- |
| Day 1: | Foundations of FirstPlay® Therapy: Developmental Play Therapy, Attachment Theory; Ericksonian Play Therapy (StoryPlay), Family Play Therapy; Infant Massage literature; nature of storytelling adapted to FirstPlay® Therapy. |
| Day 2: | Touch Research/ethical/cultural considerations; Experiential Exercises; Body/Mind Connection/Relaxation; Introduction to Infant Massage. |
| Day 3: | FirstPlay® Infant Massage Storytelling; Review Parent Manual; Infant cues for readiness; FirstPlay parent review check-list; videotaping; pediatrician permission; benefits & contraindications to massage; practicing (via Doll) & facilitating techniques of the Baby Tree Hug Massage & other activities. |
| Day 4: | Morning Role-Play Practice; In the afternoon, parent-infant volunteers join the training so that participants gain real-time implementation of the FirstPlay Parent Handbook©; a fun and exciting time of the training. |
| Day 5: | FirstPlay® Kinesthetic Storytelling; Interspersed Metaphorical suggestions and relaxation skill building; Autism considerations; practicing & facilitating the Magic Rainbow Hug, & other Kinesthetic stories; Marketing Practice. Final question and answer competency assessment. |
"Dr. Courtney's storytelling approach promotes the value of therapeutic touch for helping children and in enhancing adult child relationships. "
Louise Guerney, PhD
Check out our Parent Website for more about
FirstPlay Infant Massage Storytelling
FirstPlay® Objectives: What You Will Learn
Discover the foundational underpinnings of FirstPlay® Therapy: DPT; Family Play Therapy; Ericksonian PT; Attachment Theory; Research in Touch

Describe how Developmental Play Therapy (DPT) supports the FirstPlay® Therapy model

Understand Attachment Theory and its theoretical relevance to the FirstPlay® model

Identify the current research that shows the benefits of touch & Infant Massage

List the ethical considerations of touch

State the benefits, limitations, and contraindications of FirstPlay® Infant Massage

Describe and demonstrate the techniques of FirstPlay® Infant Massage Storytelling via Doll

Describe and demonstrate the techniques of FirstPlay® Kinesthetic Storytelling®

Demonstrate how to instruct a parent in FirstPlay® Infant Massage Storytelling

Demonstrate how to instruct a parent in FirstPlay® Kinesthetic Storytelling®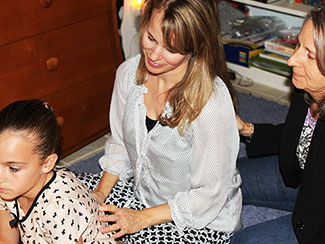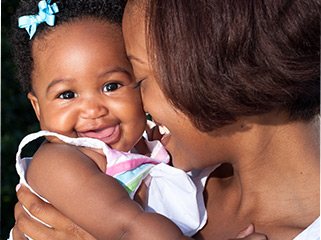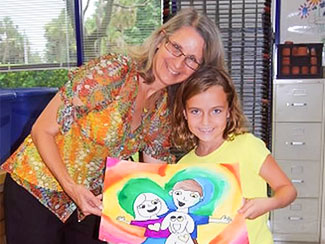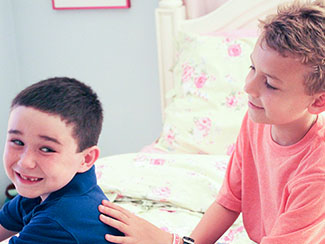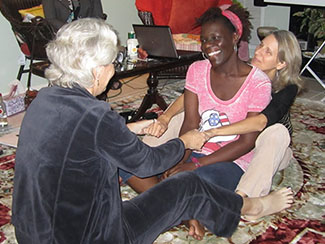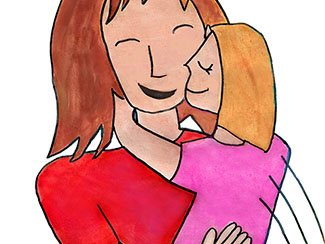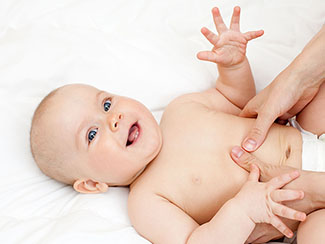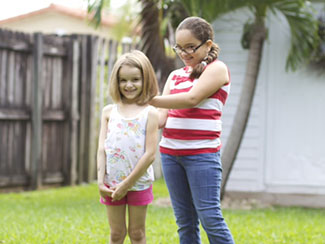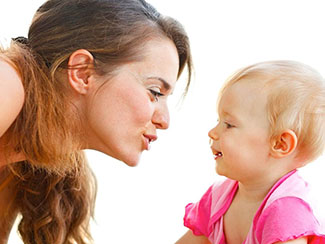 Training Methods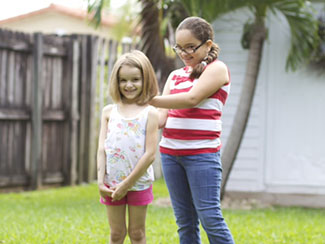 The workshop includes the FirstPlay® Therapy Training Manual© consisting of ten chapter/modules that will be followed throughout the training. Training methods include lectures; touched-based experiential exercises; live demonstrations; role playing with other participants; journaling; and work in clay. Participants will also receive the FirstPlay® Parent-Child Manual© that will be used when training parents in the FirstPlay® Therapy methods. This parent manual is intended for participants to give to the parents and additional copies can be purchased at a minimal cost.
This training is for play therapists, counselors, social workers, family therapists, psychologists, school counselors, child life specialists, occupational therapists, nurses, and other professionals who work with children. Note: The FirstPlay
®
training is limited to 12 participants per leader to permit extensive skill practice and individualized coaching and feedback.
Wear comfortable clothing
Nearby lodging options available upon request
Bring your own baby-doll and/or large stuffed animal
This training provides three hours of training objectives and goals in the Ethical considerations of touch in Play Therapy and child psychotherapy. Participants need to check the requirements of their state mental health licensure to see if this training will meet the individual state's mandates of ethics. It does meet the requirements in the state of Florida.
This is an intermediate level training that presumes participants already have an understanding of basic Play Therapy foundations, and knowledge of varied assessment methods and treatment planning for parent-child relationships, all of which are not taught in the training. Practitioners must be licensed in their area of specialization.
The primary FirstPlay® Training location is in Boynton Beach, Florida (10 minute drive from the ocean). As well, practitioners can arrange for training in their areas with a minimum of seven participants.
Continuing Education
Developmental Play & Attachment Therapies is an Approved Provider for Clinical Social Work, Marriage & Family Therapy and Mental Health Counseling in the state of Florida. BAP #1035 Exp. 3/2017 & DPAT is an APT Provider #10-287. APT Provider #10-287. Partial CE credit cannot be given. Contact Dr. Courtney to Arrange for a FirstPlay® Therapy Intensive Training for your Agency or Organization.
Training Includes:
37 Hours of FirstPlay Therapy CE Training
FirstPlay® Therapy Training Manual© consisting of ten Chapters/Modules
FirstPlay® Parent Handbook©
Certification as a FirstPlay Therapy Practitioner
Break Refreshments/Snacks
Name and contact information added to the FirstPlay® Therapy website ~ first year free; $50.00 for each year following to remain listed on the website
Registration and Fee
The fee includes all the training inclusions listed above. To register, please download the brochure, fill out the form and send it to the address listed on the brochure. If paying by check, send it along with the registration form.
Cancellation Policy
Written cancellations received three weeks prior to the training date will receive a full refund, minus a $95.00 processing fee; and there will be a $200.00 cancellation fee if less than 3 weeks' notice. The remainder of your registration fee will be returned to you.
Early Bird Registration
If you pay earlier than 3 weeks prior to training date Download brochure, fill out form, and return by mail   Download Brochure To pay by check: Mail check with your completed form. Make check payable to: Developmental Play & Attachment Therapies or DPAT To pay with credit card / PayPal: Click below
Regular Registration
If you pay three weeks or less prior to training date Download brochure, fill out form, and return by mail   Download Brochure To pay by check: Mail check with your completed form. Make check payable to: Developmental Play & Attachment Therapies or DPAT To pay with credit card / PayPal: Click below
Location:
Boynton Beach, Florida
(10 minute drive to the ocean)
Next Training Dates
October 24-28, 2017
Training Hours: 37
Florida Board Approved Continuing Education provider in Mental Health
and through the board of Massage Therapy (#1035);
and APT Approved Provider 10-287
Approved provider Florida State Board of Massage Therapy